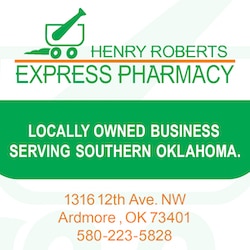 VYPE Magazine editor Brad Heath caught up with Zaria Stoughtenborough to find out more about the senior and Ardmore Pom.
VYPE: What is your favorite subject at Ardmore High School? 
Stoughtenborough: My favorite subject in school is English.

VYPE: How long have you been involved in Pom?
Stoughtenborough: I've been a member of the Pom squad for four years in high school, two in middle school.

VYPE: What do you enjoy most about Pom and what do you love most about your teammates?
Stoughtenborough: I enjoy smiling under the bright lights of Friday night football games. What I love most about my team is when we get to have a big and little sister. It helps us grow bonds with each other and get to know one other better.

VYPE: Are you involved in any other clubs or groups at school?
Stoughtenborough: I am also in National Honor Society, Leaflets, Ardmore High School Choir, and Fellowship of Christian Athletes.

VYPE: What do you enjoy doing in your free time?
Stoughtenborough: In my free time I enjoy dancing, and hanging out with my closest friends.