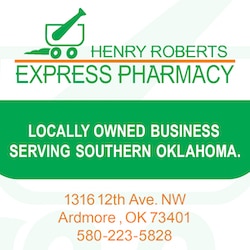 Patience, determination, and a willingness to compete are traits necessary for success in softball. For Ardmore junior Addison Wolf these characteristics define her relationship not only with softball, but academics and other sports as well. As a multi-sport student-athlete Wolf plays softball, basketball, and runs track at Ardmore. This fall she's looking forward to competing in fast-pitch and knows what it takes to be successful.
Coaches admire Wolf's work ethic and say that she is a player who knows the game well and always gives it her all. She can play multiple positions and is a great team player.
"I think someone who is willing to work hard and has a positive mindset makes a great softball player," Wolf said.
Wolf enjoys the moments she gets to spend with her teammates and going the extra mile to improve and bond with her teammates and coaches.
"My favorite memory was probably our midnight practice because I think it brought everyone closer," Wolf said. "And it was really fun being up so late playing softball!"
This fall Wolf wants to see her team perform well, but to also have fun while doing so.
"I would like my team and myself to make it very far this season and just see us play to the best of our abilities."
When Wolf needs advice in life or a person to look up to she seeks out her mother.
"My mom, Kelly Butler, is my role model," Wolf said. "She works so hard and pushes me so much to help me be a better athlete and person."
After high school Wolf plans to attend college to further her education. Although she hasn't decided what she wants to study, she knows that she has time to decide and will put forth her best effort –as she does in everything– when the opportunity presents itself.